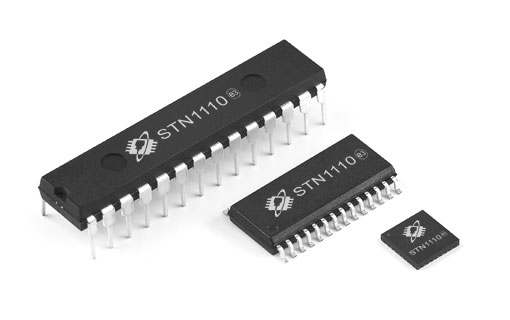 The price range of OBD adapters are relatively wide. The difference of price is mostly based on the technology used in adapters. OBDLink scan tool by scantool.net uses a different chip set (STN1110) from one a budget OBD adapter use (ELM327). There are some advantages of STN1110 over ELM327.
ELM327 is a programmed microcontroller, for OBD translators from ELM Electronics. STN1110 from OBD Solutions supports the ELM327 command set and an extended command set that makes it perform better, faster and many enhanced features.
STN1110 can execute its software 10 times faster than ELM327, 4 times as much flash memory, and over 5 times as much RAM. Faster execution speed allows doing more tasks at the same time. Large flash memory means there is more room for additional features. Unlike ELM327, STN1110 has plenty of memory to buffer OBD responses and eliminate buffer errors.
ELM327 can't update its firmware. It need to be replace with newer version of chip to do so. That is why there have been many versions of ELM327 adapter since its release. STN1110 allows the user to reflash and then add custom functionality or take advantage of new features.
AT command set is an instruction to vehicle's computer that ELM327 provides to work as a basic OBD scan tool. ST command set is one STN1110 provides, designed to perform extended functionality in addition to AT command. This allows enhanced CAN, j1939, and ISO9141 support. Both ST and AT command sets are available at the same time.
STN1110 support baud rates between 38 bps and 10M bps while ELM327 supports 9600 bps and 500K bps.
OBDlink series including OBDLink, S, SX, and MX use STN1110 chip instead of ELM327 chip. That is the reasons these adapters have a better performance, faster transfer speed, and battery saving technology.
OBDLink scan tool – Advantages of STN1110 over ELM327