PLX Devices sent me an email that notifies Kiwi 4 is now shipping. The newest adapter of Kiwi OBD adapter will be arrived in 4 to 6 weeks to the backers of Kickstarter project. Apart from the news of shipment, there are some positive announcements in the email.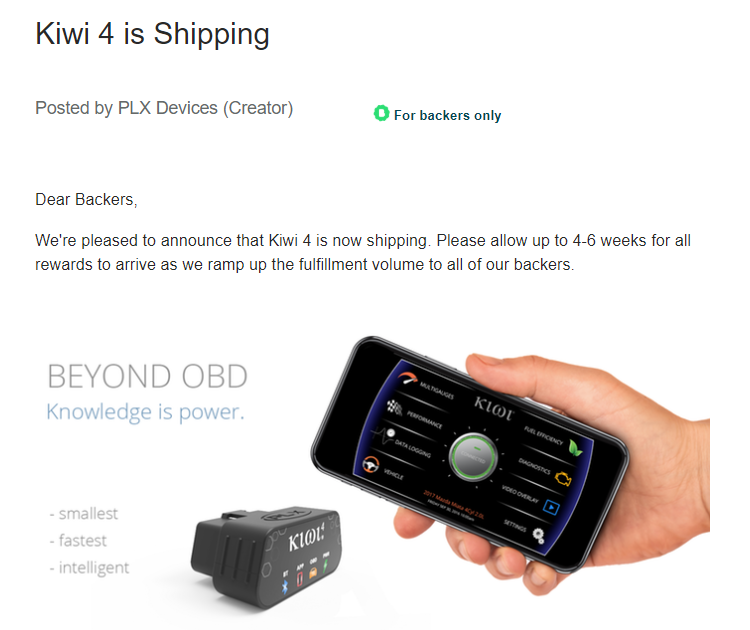 Free Basic License
Kiwi OBD app will be updated to the new version 2.0 in a couple of weeks. And, the basic license, which normally costs $9.99 will be offered for free. It includes MultiGauges, Diagnostics, and Fuel Efficiency.
Free Video Overlay and Data Logging features
Kiwi OBD app has more features, Video Overlay and Data Logging. They also cost $9.99. You can use them for free. You will need to register Kiwi 4 for warranty, go, and like their Facebook page: https://www.facebook.com/PLXDevices/ After you have done that, send a message to them, and you will receive the codes to unlock Video Overlay and Data Logging.
It seems backers can use most of features of Kiwi OBD app for free.
Kiwi 4 is the fourth generation of OBD adapter by PLX Devices. It includes all features of Kiwi 3 and some unique features such as a micro SD card slot and built-in speaker. Click here to see more details about Kiwi 4.
Related Posts
Kiwi 4 OBD2 adapter is on the way